Happy WooHoo Wednesday!
...What's your WooHoo! moment of the day?
Mine is that I got my lazy butt out of bed when my alarm went off the first time this morning!
What I Ate "While Cleaning Out The Pantry" Wednesday!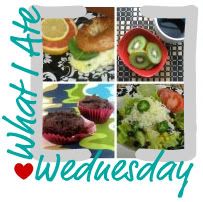 Okay you caught me, I don't actually have a pantry... yet!
...It's on the husband's ever-growing-and-never-ending to-do list that will one day be completed.
I do, however, have many cabinets that are overflowing with food that I have decided needs to be eaten before I buy any more.
And therefore, I have been making meals whether it be breakfast, lunch, dinner, or snack based on the canned goods, frozen vegetables, and other products that I have stacked up over the last few weeks of
couponing.
To accomplish this, it was time to get creative.
Let's see what I have come up with
and subsequently stuffed my face with
!
Breakfast:
One LARGE Whole Wheat Pancake with a Banana and 2 Tbsp. Chia Seeds covered in Maple Syrup with a Side of Coffee.
(I have had this package of wheat pancake mix in my cabinets for MONTHS, and I decided to whip it up on Sunday; I had plenty of leftover batter to enjoy Sunday breakfast pancakes for breakfast each day this week!)
Mid-Morning Snack:
Two Clementines
(I love citrus season!)
Lunch:
Leftovers From Monday's Dinner -Vegetarian Mexican Burrito Made With Black Beans, Peppers, Onion, Spanish Yellow Rice, Colby Jack Cheese, Corn Salsa, and a Whole Wheat Tortilla with a Side of Cheese Stick
(All of which has been taking up wayyyy to much space in my cabinets/fridge/freezer!)
Mid-Afternoon Snack:
Yoplait Honey Greek Yogurt
(Yes, finally the last of the Yoplait Greek Yogurt that I have been ever so strategically avoiding in my fridge because

I am not a fan!
)
Dinner:
Sauteed Chickpeas, Tomatoes, and Vegetables
(and chicken for the husband)
Served over Mashed Potatoes With a Side of Biscuits.
(Finally, my cabinets have a little breathing room again! You would not believe how many containers of biscuits I have sitting in my fridge (which were all a bargain due to the use of
coupons
)... I think the count is at six packages post-dinner last night.)
In my effort to use up the foods that I simply had lying around, I think I did pretty well.
I still have quite a bit of food stocked up, so I am still holding off on the grocery shopping until at least the coming weekend.
Hopefully the husband won't starve before then...
...Just kidding, we have plenty of foods that he likes too!
Do you tend to buy foods and then forget about them in the back of your pantry cabinets?