Happy Fantastic Friday!
WooHoo, I am so pumped that the weekend is finally here!!!
What are you doing to celebrate?
... I'm heading into the city tonight for a much needed night out with my college roommates! Sooo excited!
Back around Christmas time, I was looking for something that I could make and give to everyone in my family for the holidays. I did not want to just make cookies or bread, I wanted it to be something
different
and
special
.
I came up with the idea of make homemade Apple Butter... and I am so glad I did because that stuff was
AMAZINGLY DELICIOUS!
I use it all the time on my morning toast/bagel!
Since then, I had a few requests for the recipe and I figured there is not better time than the present to tackle this post.
So for your viewing pleasures, a tutorial on how to make homemade
APPLE BUTTER!!!
First and foremost you need 1/2 pint Ball/Mason jars for canning purposes; each batch of apple butter makes about 8 1/2 pint jars! You also need other basic canning supplies such as a large boiling pot, and then tongs to remove the boiling hot jars from the boiling hot water (I don't want anyone burning off their pretty little fingers!) .... A large crock pot it also needed.
Homemade Apple Butter
6-8 Pounds of Mixed Apples (I used 4 Granny Smith, 3 Braeburn, 2 Fuji, 2 Macoun, 2 Cortland).
It is important to mix bitter with sweet apples to get a good blend of flavors!
2 Cups of Sugar
1 Tbsp. of Cinnamon
1/4 Tsp. of Ground Cloves
1/4 Tsp. of Salt
Directions: 
1. Peel and slice apples so that they are less than 1/4 in thick. An apple peeler/slicer/corer works the best but you can do it by hand as well. (Story time - the first batch of apple butter that I made I hand peeled, cored, and sliced the apples and it took me HOURS, but then my lovely hubby-to-be introduced me to an apple peeler and HOLY SMOKES it saved me so much time and frustration.... so word to the wise is definitely do not waste your time doing this by hand. invest in an apple peeler to do the manual labor for you!)

2. Sift Sugar, Cinnamon, Cloves, and Salt together so that it is well blended.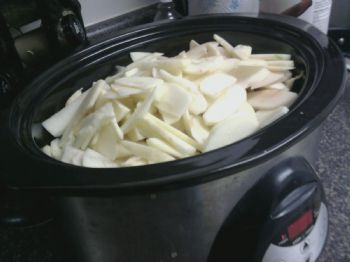 3. Add apples to crock pot. The crock pot should be filled to the brim with apples.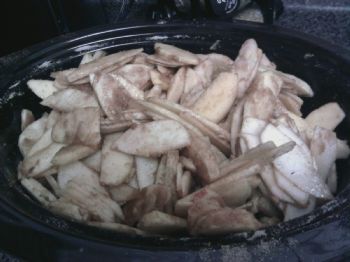 4. Add Sugar mixture to apples and stir very well mixing the apples together with the sugar/cinnamon/cloves/salt. Stirring should take a few minutes so that all apples are evening coated.

5. Turn crock pot on high and let cook for 1 hour.

6. Stir well and turn crock pot to low for 8 hours. You NEED to stir your apples every 2-3 hours so the bottom does not get cooked more than the top. Stirring continuously also helps to break down the apples as they cook for a nice smooth butter-like substance (I found the best time to do this was overnight, so I took out my sleeping bag and slept on the couch near the kitchen and then set my alarm for every 2.5 hours so stir.... it was a LONG couple of nights!)

7. Remove crock pot lid and let cook uncovered for additional 1 hour (there should be a total of 10 hours of cooking)

8. Whisk Apple Butter with hand whisk. It will look a tad clumpy but it will not taste clumpy. Take a taste test!!!!!

9. Funnel apple butter into 1/2 pint ball or mason jars (jars should be hot so place them in the oven for 20 minutes at 250F before filling with the butter). Make sure there is no air pockets in the jars and seal with covers.

10. Place bars in boiling water so that the covers are submerged by 1" of water for 10-15 minutes so seal lids. Remove with tongs!

11. Wait 24 hours before adding labels or placing in fridge; let sit on the counter for at least 24 hours to settle and seal.

12. These jars will last unopened for a long time on your shelf and is best if served within 1 year of creation after opening.

13. Enjoy Apple Butter on Toast, Baked Goods, Chicken, Pork, and so many other options! This makes an awesome holiday gift no matter the time of year.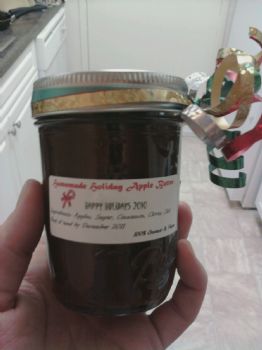 These are the labels/ribbons I added to each of my Holiday gifts that I gave to family/friends!

... I have a new love of canning!
Inparticular... I have a very special idea for wedding favors for my wedding guests come May!
Stay tuned for more delicious canned recipes to come...
ENJOY YOUR WEEKEND!